Mindful Kiddo was founded in 2017 to guide children through movement and mindfulness activities, creating lifelong healthy minds & bodies. We aim to bring a unique BODY BRAIN BOUNCE to Educators and young children at Child Care Centres, Early Learning Centres, Kindergartens & Playgroups.
Our BRAIN BODY BOUNCE program is unique and guides children through many activities and opportunities of mindfulness. Our instructors are carefully selected from fully trained and qualified children's yoga and mindfulness teachers. We believe that formal training is crucial but cannot replace or substitute natural talent, playful, a gentle personality and love for children.
Good communication and connection are the keys to all areas of Mindful Kiddo, for the children, educators, families and staff. We also understand how stressful it can be juggling work, home and extra activities. That is why we make it easy for you and bring BODY BRAIN BOUNCE into the early learning centres.
We also have a program that teaches the education team how to bring mindfulness into their everyday teaching programs and to role model for the children how to feel calm and manage stress. This is linked to the Early Years Learning Framework and the National Quality Standards.
There is no better reward than seeing calm, happy children, equipped with the mindfulness tools to manage their emotions, deal with anxiety and the everyday stressors of life.
Our mission is to give as many children and families as possible access to the tools from our Mindfulness emotional wellbeing and resilience program. We aim for this to be easy and affordable with no stress out of your day. Our programs are delivered for children as part of their normal educational journey at the centre they already attend. We aim to support the education team to teach and role model these amazing skills every day.
I am co-creator of Mindful Kiddo and "constantly coming up with new ideas" part of the team. I came a long way and it is not only about the distance of 17 000 km from Europe. From a psychologist working with adults and couples in Ireland, saying "I will never work with kids" I have transformed into Mindfulness enthusiast working with youngest children.
Life is full of surprises and one of them is how children can change you and world around you. My little boys (now 5 and 8) taught me how to play, enjoy every moment and every piece of the world from little stone to clouds on the sky. I realised how mindfulness is important not only to my adult clients but also to children.
This is one of the reasons Mindful Kiddo was born. My psychological background, certification in Mindful Relationships and MBCT, experience in ABA therapy of children with ASD as well as running own business Mindful Playgroup bring amazing qualities to Mindful Kiddo Program. I make sure your children will discover helpful MINDFULNESS techniques, LEARN about the world, have FUN and even teach the whole family how to be mindful. When I do not teach mindfulness or kids yoga or listen to other people problems, I ride mountain bike, hike with my family, snorkel or read psychological books...of course!
Hi I'm Sonia I am a paediatric nurse with a post graduate degree in child and family health nursing, I've have spent over 20 years working with children and families in the community. More importantly I am a mum of 5 children ranging from 26 to 9 years old. I am very passionate about teaching the importance of Mindfulness to families and early childhood professionals. I have spent the last 6 years learning more about the neuroscience behind early childhood development. I have learnt that Mindfulness is an incredible tool that we can teach from a very young age to support the healthy social and emotional development of our children. I'm a trained children's yoga and mindfulness teacher as well as having a Certificate IV in Training and Assessment with over 10 years' experience teaching adults all over Australia.<!–- [et_pb_br_holder] -–>

Antje is a qualified children's yoga and parent-child-yoga teacher. She has a background in theatre and likes to weave stories into her classes, thus making mindful movement more accessible to children of all ages. Antje has found the benefits of meditation invaluable for her personal and professional life – in particular, the way 'informal' meditation, or mindfulness, can be woven into everyday activities. She's excited to be supporting Mindful Kiddo in its endeavour to bring mindfulness to even the smallest members of society, helping them to stay connected with their innate ability to be fully present.
Antje has one son, and is passionate about connection-based, non-punitive parenting and childcare. When she's not teaching or planning workshops, she can be found fooling around with her little one, at the beach, in the garden, or with a cuppa and a good book.
Manila's passion for empowering children runs deep. She has worked as
school teacher over 15 years with children ages 6 - 16 years. She has a BA
in Social Communication and is a Certified Yoga Teacher, Special Needs
Yoga Therapist, Zenergy kids yoga therapist and Rainbow kids yoga
instructor.
Manila's goal is to continue to empower children through yoga, movement,
mindfulness and breath. She loves working and offering tools to kids with
special needs, mental health disorder and challenge behaviour. She loves
outdoor activities, meditation, tai chi, yoga, gardening, hugging trees and
spending time with her two boys in nature.
Ashleigh has a background in musical theatre, touring in shows including Chitty Chitty Bang Bang, CATS & Cinderella, touring Australia, New Zealand and Asia. Ashleigh is a passionate teacher. She currently teaches a variety of styles of dance and singing, works with a company developing theatre with disabled adults and teaches yoga and fitness classes at a studio in Norwood. She is also studying Occupational Therapy at the University of South Australia. When Ashleigh isn't studying or teaching, you can find her either rock climbing, reading, hiking or enjoying a cup of tea with friends or family on the deck.
Hello, I am a Music specialist and Meditation teacher, I have been teaching all ages music and singing for over 20 years. I worked at Kindermusik Teacher for seven years and then created her own program Come And Play Music which Ie have been teaching for the past 10 years in Childrens centres around Adelaide.
I have a passion for bringing joy into her classes to make learning fun and currently run my own classes and have been authoring a book for children on mindfulness.
The most important lesson Meddy Teddy teaches kids is to be happy. As you can see from Meddy Teddy's face, he's always happy. If you approach everything in life with a positive and happy light, your outlook will change and you can do anything you set your mind to!
Meddy Monkey is our little assistant who has busy mind just like our children. His monkey mind learned how to calm down and focus better. Now Meddy Monkey teaches children how to do the same! Did we say that he is also very flexible?
Our instructors are carefully selected from fully trained and qualified kids yoga and mindfulness teachers. We believe that formal training is crucial but cannot replace or substitute natural talent, playful, gentle personality and love to children. Mindful Kiddo instructors are not only committed to personal development but also constantly work on their creativity to build unique connection with children at the class. They are fully aware that they work with real children, with real problems and real emotions. They are patient, take time and approach each child individually.
GET IN TOUCH TO APPLY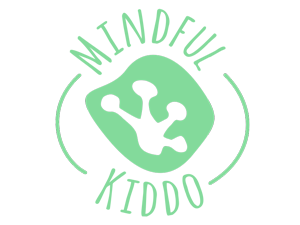 Our mission is to give as many families as possible access to this program at an affordable price and with no stress out of your day.