Mindful Kiddo was founded in 2017 to guide children through movement and mindfulness activities, creating lifelong healthy minds & bodies. We aim to bring a unique Mindfulness Program to the youngest children at Child Care Centres, Early Learning Centres, Kindergartens & Playgroups.
Our mission is to support children and their parents along the journey of learning how to become more mindful. We not only aim to increase awareness about benefits of mindfulness for children, but also their families.
Our program MINDFUL KIDDO is unique and guides them through many activities and opportunities of mindfulness. Our instructors are carefully selected from fully trained and qualified kids yoga and mindfulness teachers. We believe that formal training is crucial but cannot replace or substitute natural talent, playful, gentle personality and love to children.
Open communication is the key to all areas of Mindful Kiddo, for the children, educators, parents and staff. We also understand how stressful it can be juggling work, home and extra activities. That is why we bring Mindfulness into the centres. No more crazy drop off stress!
We also provide a platform to mindfulness instructors to expand their knowledge and experience in teaching young children, offer employment opportunities to young mindfulness teachers and guidelines of good practice for teaching mindfulness to preschoolers.
There is no better reward than seeing happy children, equipped in mindfulness tools, and parents being less anxious about their future.
I am co-creator of Mindful Kiddo and "constantly coming up with new ideas" part of the team. I came a long way and it is not only about the distance of 17 000 km from Europe. From a psychologist working with adults and couples in Ireland, saying "I will never work with kids" I have transformed into Mindfulness enthusiast working with youngest children. Life is full of surprises and one of them is how children can change you and world around you. My little boys (now 5 and 8) taught me how to play, enjoy every moment and every piece of the world from little stone to clouds on the sky. I realised how mindfulness is important not only to my adult clients but also to children. This is one of the reasons Mindful Kiddo was born. My psychological background, certification in Mindful Relationships and MBCT, experience in ABA therapy of children with ASD as well as running own business Mindful Playgroup bring amazing qualities to Mindful Kiddo Program. I make sure your children will discover helpful MINDFULNESS techniques, LEARN about the world, have FUN and even teach the whole family how to be mindful. When I do not teach mindfulness or kids yoga or listen to other people problems, I ride mountain bike, hike with my family, snorkel or read psychological books...of course!
Hi there, I too am the other part of the Co-creating team of Mindful Kiddo. Born in Adelaide and never travelled too far, because I love this city. Also my husband is from Adelaide and so raising our 5 children (26, 20,18 & twin 8 years olds) together it was never a question that we would live anywhere else. My children have taught me to love life and appreciate all the little things. My company, Moveit Fitness & Wellbeing specialises in children's programs and is entering into it's 13th year of business. Hiacynta and I met a few years ago at a Children's Yoga Teacher Training and we both have similar visions of what we want to bring to children with Mindful Kiddo. I am also the Adelaide Ambassador for Rainbow Kids Yoga and my passion is to guide children to a more Mindful way of being from a young age, instilling wonderful, healthy mind & body habits that will assist for a lifetime of living well. In my spare time I love to study, bushwalk, go camping and sometimes just catch up on some well earned rest.
I am Rainbow Kids Yoga Teacher, neurotherapist, movement and auditory stimulation therapist - certified Bilateral Integration & IAS Johansen therapist. It is amazing that in so many ways we can help children to grow, become more resilient and happier.If not working with children, I read, watch Grey's Anatomy and knit.
Hi, my name is Belinda and I am so excited to be a part of Mindful Kiddo. For the last 3 years I have been visiting Child Care Centres, ELC's, Kindergartens and Schools bring Movement and Mindfulness programs to children with our Rainbow Yoga program. My job is so amazing, seeing the benefits that children experience through this program and then to hear how the children take the ideas home and share them with their families. I love to hear stories about what the children take home and share with their family members, calming breathe techniques learnt, movement & poses and trying out the mindful games together. In my spare time I like to create with clay, spend time with my family and laugh with friends.
I am happy to be a part of Mindful Kiddo team. As a Rainbow Kids Yoga Teacher I can support children's development and teach mindfulness from early age.
My passion is learning about healthy lifestyle, wellness and nutritious food. When I'm not teaching classes I enjoy time with my family (husband and little son) and friends.
On weekends you can find me either hiking from Waterfall Gully to Mt Lofty or doing shopping in Farmers Market.
Ashleigh has a background in musical theatre, touring in shows including Chitty Chitty Bang Bang, CATS & Cinderella, touring Australia, New Zealand and Asia. Ashleigh is a passionate teacher. She currently teaches a variety of styles of dance and singing, works with a company developing theatre with disabled adults and teaches yoga and fitness classes at a studio in Norwood. She is also studying Occupational Therapy at the University of South Australia. When Ashleigh isn't studying or teaching, you can find her either rock climbing, reading, hiking or enjoying a cup of tea with friends or family on the deck.
The most important lesson Meddy Teddy teaches kids is to be happy. As you can see from Meddy Teddy's face, he's always happy. If you approach everything in life with a positive and happy light, your outlook will change and you can do anything you set your mind to!
Meddy Monkey is our little assistant who has busy mind just like our children. His monkey mind learned how to calm down and focus better. Now Meddy Monkey teaches children how to do the same! Did we say that he is also very flexible?
Our instructors are carefully selected from fully trained and qualified kids yoga and mindfulness teachers. We believe that formal training is crucial but cannot replace or substitute natural talent, playful, gentle personality and love to children. Mindful Kiddo instructors are not only committed to personal development but also constantly work on their creativity to build unique connection with children at the class. They are fully aware that they work with real children, with real problems and real emotions. They are patient, take time and approach each child individually.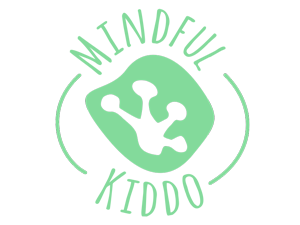 Our mission is to give as many families as possible access to this program at an affordable price and with no stress out of your day. The program is delivered to them as part of their normal educational journey at the centre they already attend.