MINDFUL MONKEY - STOP YOUR WORRIES ONLINE PROGRAM
The perfect solution to having your child to manage their own emotions and deal with worries
THE MINDFUL MONKEY PROGRAM CAN TEACH YOUR CHILD SOME LIFE-CHANGING SKILLS
Mindful Monkey STOP YOUR WORRIES Online Program
is our introductory, self-paced, 8-week interactive program for primary school children from 5 to 12 years of age.
This training consists of not only 8 online video tutorials with activities, available on demand. It is also designed to be used with MINDFUL PACKAGE: Mindful Monkey plush toy, Feeling Rocks and Mindful Cards that are sent to your home!
With Mindful Package and Mindful Monkey Workbook available to print out, your child can practice learnt skills EVERY DAY and HAVE FUN!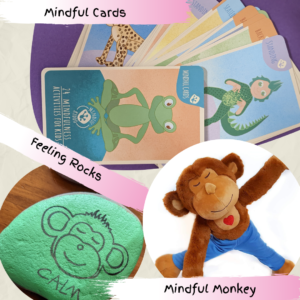 Part 1 is focused on showcasing why mindfulness is an useful tool to teach children about self-regulation, emotions and body awareness. Mindful Monkey program teaches about emotional regulation in a multidimensional, practical and fun way.
Your child will learn how to recognise emotions, name her worries and find her own way to deal with them.

This program is not about sitting and watching videos. This program is about moving your body, drawing, making notes, playing with the best worry buddy – Mindful Monkey and seamlessly overcome anxiety.
Check course curriculum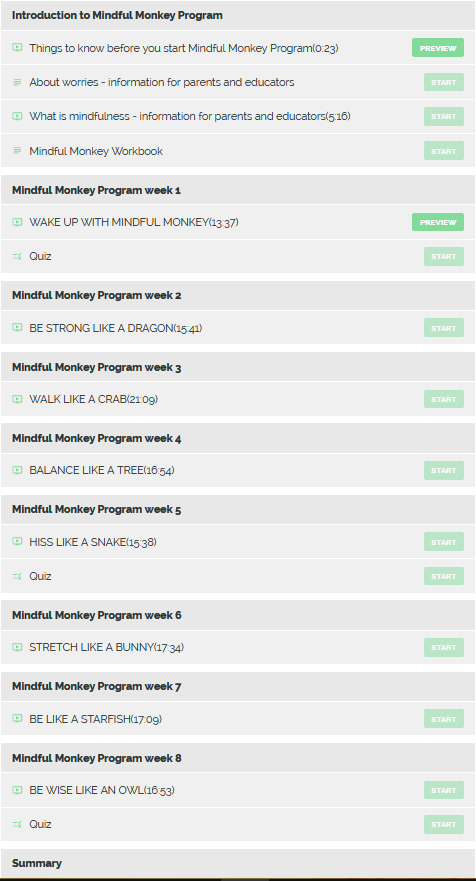 Book here
What Happens at Mindful Kiddo class?
ZOOM-LIKE VIDEOS
Engaging tutorial videos with Ashleigh who will make your child to feel like in a middle of live session. Your child will move, stretch and feel better!
RELAXATION TECHNIQUES
Being mindful can be a fun and effective way to nurture the awareness of the mind-body connection for children. It involves 'tuning in' to the present moment – whatever the moment may be and focusing on it completely. We use amazing tools to help children in relaxation. Ashleigh finishes every video with a guided relaxation.
BODY BALANCE & FUN GAMES
We encourage play within our classes as it builds self-esteem, improves social skills, allows personal creativity to grow and shine, increases body awareness and it makes Mindful Kiddo a fun and engaging program that children are thoroughly enjoying. It is important to remember how crucial is physical activity, improving balance and coordination from early age.
MINDFUL MONKEY

Every session is build around using concrete tools. Once you receive your own Mindful Package, your child will discover Mindful Monkey (@smallyogis) and his amazing skills. He can stretch, keep yoga poses and overcome anxious thoughts using breathing.
FEELING ROCKS & MINDFUL CARDS

You will also receive hand-painted Feeling Rocks and specially designed Mindful Cards. With these amazing tools your child will explore emotions and their relation to body and mind.
ENGAGING SENSES
Mindful listening, touching, smelling, testing and seeing is useful to become more mindful and overcome worries.
EMOTIONAL REGULATION
Self-regulation is extremely important for future success. Children learn to recognise emotions in their body, name them and cope with them. Our tutorial videos and other tools are all there to help them in the process.
BOOKLET WITH ACTIVITIES
Mindful Monkey Workbook includes not only colouring pages but also creative activities based on CBT and mindfulness approach. Once downloaded, you can reprint the book for personal use only. Our program design works alongside the Early Years Learning Framework, ensuring that Learning Outcomes are met.
CLICK HERE & REGISTER NOW! ONLY 299 AUD LAST 15 COURSES!