CLASSES
RESEARCH SHOWS BENEFITS OF MINDFULNESS AND MINDFUL MOVEMENT FOR KIDS
Play-based mindfulness classes might be tricky to imagine and many parents often ask us what are you actually doing at this type of class. If you think that we ask 3-years-old to sit on a mat and meditate for 30 minutes then no, it is not true. Each class consist of a warm up and bringing kids together through play-based learning and a minimum 10 minutes of relaxation and quiet time. We have also very special assistant Meddy Teddy who helps a lot, and the children love him! You will hear a lot about him if your child joins our program for sure. But if you are really curious why children love our Mindfulness Class here are few examples what kids do at our classes:
What Happens at Mindful Kiddo?
THEMED CLASSES
Your child may learn about recycling, animal life-cycle or even meet sea creatures.
MINDFULNESS
Being mindful can be a fun and effective way to nurture the awareness of the mind-body connection for children. It involves 'tuning in' to the present moment – whatever the moment may be and focusing on it completely. It is an amazing tool to have and continue to build upon. Let your child become more mindful!
FUN
We encourage play within our classes as it builds self-esteem, improves social skills, allows personal creativity to grow and shine, increases body awareness and it makes Mindful Kiddo a fun and engaging program that children are thoroughly enjoying.
MINDFUL PROPS
Your child can expand their imagination and boost creativity thanks to mindful props. How many poses can you do with a scarf? Superman, Ninja, ballet dancer or monkey with a long tail? Choose your favourite plush animal and use your body to become one! Every Mindful Kiddo instructor has own Magic Suitcase full of mindful props. Every child cannot wait to find out what is inside!
MINDFUL SINGING
Songs are endless inspiration and you can create your own mindful song. Instead of "head, shoulder, knees and toes" we get crazy with our poses and actions! Kids love it!
TRAVEL AROUND THE WORLD
We use our magic globe and magic hat and visit any place you like.
MINDFUL GAMES
There is no better way to stretch or practice mindfulness than by playing creative mindful games. Have you heard about "mindful, mindful, mindful..cat!" ?
LEARN
Our program design works alongside the Early Years Learning Framework, ensuring that Learning Outcomes are met, reinforcing each centres goals and vision for a positive and inclusive learning experience for all children. Co-creation of classes is integral to the children, instructors and educators – as we can all learn from each other.
FREQUENTLY ASKED QUESTIONS
Do you offer a free trial class?
Yes we do! If the center your child attends is currently hosting Mindful Kiddo classes your child can attend their first class FREE.
To receive first free class please register here.
(If the center your child is attending is not offering Mindful Kiddo classes you can also register your interest here.)
Is my child too young for mindfulness program?
Mindful Kiddo program is suitable for children from 2.5 years of age. Children at young age cannot stay still or focused for longer periods of time and our 30 minutes class is specially designed for active preschoolers. Contact us in case of doubts if such a class would be a good fit for your child.
How do I enrol my child?
Please go to our website and click on "find a class here", choose the class you want your child to attend, click "enrol your child here", complete payment and fill out enrollment form. You will receive email confirmation.
How do I pay for classes?
We offer ongoing classes ($9 per class per child). By enrolling your child you agree to purchase subscription with monthly upfront payment ($36) via credit card or PayPal. Your child is eligible to up to 4 classes a month.
How can I cancel booking?
You must adhere to a 14 days cancellation policy. The Mindful Kiddo Program subscription
may be cancelled any time upon 14 days by sending an email to
hello@mindfulkiddo.com.au
Make sure you will cancel your subscription 14 days prior last day of your current subscription. If you fail to do so you will be automatically charged for another month. If any class has to be cancelled on Mindful Kiddo request, you will receive refund or make up lesson over a period of attending Mindful Kiddo Program.
What if my child misses a class?
You are eligible miss up to
2 classes over period of 3 months
and receive refund. To receive refund you need to contact Mindful Kiddo at
hello@mindfulkiddo.com.au
.
Do your program include teaching kids yoga?
Mindful Kiddo Program is focused on teaching children mindfulness and mindful movement. Although our instructors can be qualified kids yoga teachers, we do not teach yoga philosophy. Our goal is to teach children how to be mindful and aware of the body with use of many tools and techniques, yoga poses are only one of them.
How long is the program run and does it include school holidays?
Mindful Kiddo runs classes all year round except weekends, public holidays and Christmas break from 24th December to 1st January. The classes return on second Monday after 1st January. You can request longer break over Christmas and summer school holidays up to 5 weeks without financial consequences if you email Mindful Kiddo by 24th December.
I would like to enrol my child but the centre is not on your list?
Please contact Mindful Kiddo to discuss options. We offer free trial class to new centres.
Can I book individual class?
Where can I find weekly class updates?
If you enrol and pay, your child you will receive invitation to Seesaw app where you have weekly class updates. To download the app please go to https://web.seesaw.me/
Do you offer any discounts?
We offer discount for childcare employees 20% which require special discount code received on request.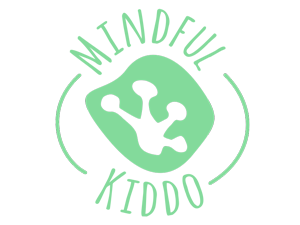 Our mission is to give as many families as possible access to this program at an affordable price and with no stress out of your day. The program is delivered to them as part of their normal educational journey at the centre they already attend.